CDTI AND ADIF PROJECT "DEVELOPMENT OF INNOVATIVE SOLUTIONS IN THE AREA OF INSPECTION OF BRIDGES AND VIADUCTS"
ICR is working on the CDTI and ADIF project "Developing innovative solutions in the field of bridge and viaduct inspection" of which ICR won the bidding with a UTE formed in conjunction with INES Ingenieros, TWave, Ommatidia and the UPM collaboration.
Linkedin
Youtube
Twitter
Project Phases

The CDTI and ADIF project consists of 3 phases :
Phase I : Prototype design  
Phase II : Prototype development
Project Update 
We have now successfully completed Phase II and are in the process of delivering the prototype to perform the predictive maintenance of the La Marota viaduct in Córdoba. ICR continues to make available to customers its technological know-how and technical equipment with a 27-year presence on the market for vibro-acoustic solutions."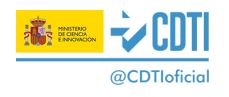 Fondo Europeo de Desarrollo Regional (FEDER)
"Una manera de hacer Europa"
You want to know more about the CDTI and ADIF Project2022 conference and the latest ICR projects? Subscribe to our newsletter to keep up with everything.